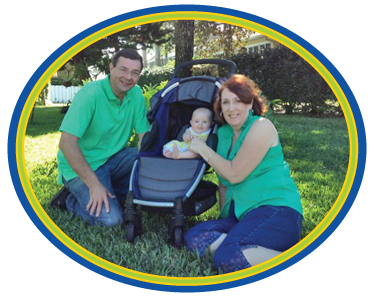 Hi, we are Pam and John Hopgood, we have been coming to the Orlando and Eastern Florida area for over 16 years, we started by bringing our son James and now our gorgeous granddaughter Eve.
We are originally from England. Met at work, married and raised our son before making the big move over the pond! We were tired of cold winters and spending 3 months of the year inside! After visiting Florida for many years we were hooked on the area and the weather!!
John worked for the UK government and Pam was a University Lecturer specializing in Marketing and Visual Merchandising while running her own business designing and making ice skating and ice dance costumes.
As parents and now grandparents we know how much effort it takes to move small children and babies around. Baby Wheels has become our passion and our mission is to to create the greatest experience possible for people visiting our part of the world. We want you to have the same happy times we have had here.
If there is anything we can do to make your stay more fun, let us know..
We look forward to serving you.
Thank you for visiting our site!
The Hopgood Family