ABOUT BABY WHEELS ORLANDO – Stroller Rentals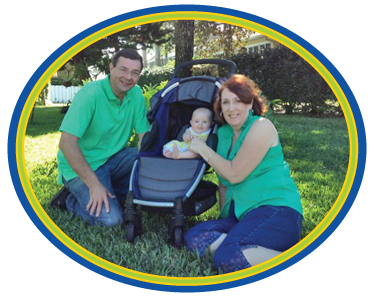 Hi, we are Pam and John Hopgood. We have been coming to the Orlando  area for over 16 years, however, it started by bringing our son and now our gorgeous granddaughter.  Both of us enjoyed it so much  we looked at buying a stroller rental orlando company.
John and I are originally from England. Met at work, married and raised our son before making the big move over the pond! We were tired of cold winters and spending 3 months of the year inside! Therefore, after visiting Florida for many years we were hooked on the area and the weather!!
We found the perfect home for us as a stroller rentals orlando company, Baby Wheels Orlando offers everything to help parents get the best out of their vacation. For instance, our strollers all recline so its easy for your child to take a nap during the long park days.
As parents and now grandparents we know how much effort it takes to move small children and babies around.  Therefore we know that stroller rentals are the best solution to your Orlando vacation. Baby Wheels has become our passion and our mission is  to create the greatest experience possible for people visiting our part of the world. We want you to have the same happy times we have had here.
Stroller rentals in Orlando has never been more simple or affordable.  All of our strollers meet the theme park requirements. As a result  they are parent approved.  Plus they are delivered and picked up free of charge to most Orlando resorts and hotels.  For stroller rentals orlando choose Baby Wheels Orlando. Our strollers can be easily transported on all the trams, monorails and buses.  They fold quickly for convenience.  As a result,  therefore making your life so much easier and you can get on with enjoying your vacation!
If there is anything we can do to make your stay more fun, let us know.
We look forward to serving you.
Thank you for visiting our site!
The Hopgood Family